The Purple Gang & The Oil Business: Doherty Hotel Murder Brought Attention To Small Town In Michigan
The mid-Michigan oil boom of the early 20th Century brought with it a Purple Gang-related murder in the spring of 1938. The all-Jewish Purple Gang ruled the bootlegging rackets in Detroit during Prohibition, dabbling in extortion, gambling, loansharking, kidnapping and narcotics and recording a body count exceeding 500 in less than a decade on top of the Motor City underworld.
Purple Gang associate Jack (Tex) Livingston shot and killed his cousin, business partner in the local oil industry and fellow Purple associate, Isaiah Leebove on May 16, 1938 inside tiny Clare, Michigan's Doherty Hotel, over a dispute regarding real estate and the worry that Leebove, an attorney from New York who was closely aligned with mega Jewish mobsters Meyer Lansky and Arnold (The Brain) Rothstein, had put a contract on his life. Purple Gang enforcer Sam (Fatty) Burnstein was present at the table in the Doherty Hotel restaurant where Leebove, 42, and his wife, a showgirl from Canada, were eating when Livingston gunned down his lawyer and kin in cold blood.
The hotel, which opened in 1924, and is located in the center of town, remains in operation today. The city of Clare celebrates it's mob heritage with many downtown shops displaying Purple Gang mementos, photos and themed-merchandise. The Doherty Hotel offers guests full reenactments of the notorious gangland slaying that occurred on its' premises 77 years ago.
Livingston, a native of Houston, Texas and a seasoned oil man, lived at the hotel and was acquitted by a jury at trial via a plea of temporary insanity. He and Leebove co-owned the Mammoth Oil Company with Purple Gang lieutenant Sam (Uncle Sammy) Garfield, the unofficial Godfather of Clare, a town 160 miles north of Detroit and roughly 10 miles south of Mt. Pleasant, the epicenter of the oil industry in Michigan. Mammoth was the largest independent oil company east of the Mississippi River in the 1930s.
Garfield was childhood buddies with the four Burnstein brothers (Abe, Ray, Joe and Izzy), who founded and led the Purple Gang and acted as their liaison to Lansky and the New York mob scene. After Leebove was killed and Livingston was ruled insane, Garfield assumed complete control of Mammoth Oil – he already owned Garfield Oil & Gas, eventually merged into Mammoth in the forthcoming years. "Dapper Joe" Burnstein, owner of a high-end Detroit men's clothier, was his treasurer.
Leebove and Livingston were feuding over 45 acres of vacant property Leebove owned and refused to sell to the company so it could drill for oil there. As the conflict escalated, Livingston became convinced Leebove was using his relationship with Lansky to arrange a murder contract on his head.
Finding himself in trouble with the law on the east coast, Leebove fled New York and landed in Clare in the years prior to his untimely demise. Joe Burnstein and Garfield also bought leafy mansions side-by-side in Mt. Pleasant, home to Central Michigan University. Livingston spent time in a northern Michigan institution and died of a drug overdose in 1948 at 55 years old living in New Jersey.
Fatty Burnstein, sometimes called "Fatty" or "Fat Sam" was the Burnstein brothers' cousin and wrestled the gun away from Livingston following him unloading his weapon into the defenseless Leebove. Both of Burnstein's sisters were married to high-ranking Purple Gang soldiers.
Abe Burnstein, the eldest sibling and de-facto don of the Purples and his baby bros Joe and Izzy were partners with Garfield and Lansky in oil business ventures in Mississippi and Louisiana at the time as well (Ray Burnstein was incarcerated for his role in Motown's 1931 Collingwood Massacre, a bloodletting of three syndicate rouges at the Collingwood Apartments). Joe and Izzy Burnstein moved to L.A, in the years after Prohibition. They died in the 1980s of natural causes.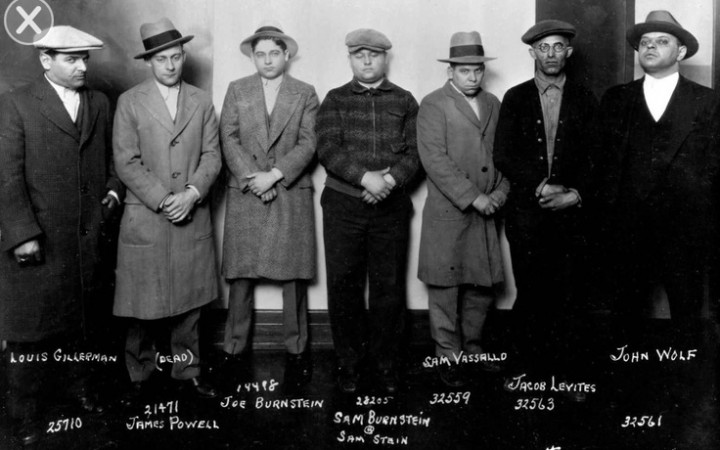 FBI surveillance units would frequently follow Lansky, usually flanked by his bodyguard, Genovese crime family button man Vincent (Jimmy Blue Eyes) Alo, from New York to Detroit, where he would meet and dine with Abe Burnstein and area Italian mafia powers, and then on to Clare to rendezvous with Garfield. Lansky and Garfield c
o-owned a Clare oil field named State Summerfield (filed with the county as an LLC) and used it to launder drug and gambling proceeds, per FBI records. Michigan State Police documents show Garfield taking trains to New York delivering the alleged "clean cash" to Lansky.
Beloved and respected, Abe Burnstein bequeathed most of his organization's rackets post Prohibition to his Italian counterparts in the city's gangland pecking order, mafia bosses, Joseph (Joe Uno) Zerilli and William (Black Bill) Tocco, going into semi-retirement, keeping busy running a bookmaking operation out of his penthouse suite at the top of Detroit's Book Cadillac Hotel and still maintaining a piece of the local sports wire service. Burnstein was an advisor to Zerilli and Tocco until his death of heart failure in 1968.
Lansky, the only non-Italian to have a seat reserved for him on the American mob's National Commission, passed away peacefully down Florida in 1983, Garfield preceded him to that giant oil well in the sky a year earlier in retirement out in California. Garfield left Clare in the late 1960s. He had resided their on a permanent basis for two decades.
End Note: consultation for this article was provided by THE Purple Gang expert, Paul Kavieff.