Mafia Hit List – Top Canadian Mob Murders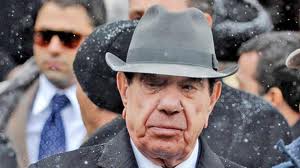 SCOTT BURNSTEIN'S 'HIT LIST'
Top 5 Canadian Mob Murders of All-Time
1 Nicolo (Uncle Nick) Rizzuto – The legendary 86-year old patriarch of the Montreal mafia, Rizzuto was killed by sniper fire inside the kitchen of his suburban mansion on November 10, 2010, the most high-profile slaying in an all-out assault on the Rizzuto syndicate, while Canadian mob boss and Uncle Nick's son Vito, was serving a prison sentence for his role in the famous 1981 Bonanno Family "Three Captains Hit" in New York.
In a three-year span, with Vito sitting helpless in an American maximum security prison, the don had his father, son (Nick), brother-in-law (Paulo Renda) and acting boss Agostino Cuntrera, all assassinated, leading to a bloody revenge killing spree against those responsible – a breakoff faction of his inner-circle consisting of his former top lieutenant Raynald Desjardins and close friend Joe Di Maulo, who joined forces with deported Bonanno boss Salvatore (Sal the Ironworker) Montagna to oppose his continued leadership – as soon as he was released in late 2012. Di Maulo and Montagna were both slain in the conflict, with Desjardines allegedly behind the Montagna hit and ready to stand trial for it in 2015. At least 15 bodies dropped as a result of the carnage-filled Canadian mob war that raged between 2009 and 2014. One of the victims of the Rizzuto-sparked purge was Toronto hit man Salvatore (Young Gun Sam) Caluatti, the suspected gunmen in the Nicolo Rizzuto murder. Haitian drug lord Ducarme (King Kenny) Joseph was murdered in the summer of 2014, some tying his slaying to the belief that he took the contract to kill Vito's son and aide-de-camp, Nick Rizzuto, in December 2009.
2 Paulo Violi – The underboss and reigning "acting boss" of the Montreal mafia, representing the Calabrian sect of the Canadian underworld, Violi was shot-gunned to death on January 22, 1978 inside his Reggio Bar social club headquarters, one of the final victims of a takeover by the Sicilian Rizzuto clan, spearheaded by the future father-son mob don tandem of Nick and Vito Rizzuto. Violi's murder was preceded by the slayings of his brother Francesco on February 8, 1977 and his consigliere Pietro (Uncle Pete) Sciara, who was killed on Valentine's Day 1976 as he walked out of a movie theatre with his wife after just taking in a viewing of The Godfather Part II, and followed by the October 17, 1980 sniper-hit of his baby brother Rocco, which was eerily similar to Nick Rizzuto's execution three decades later.
3 (tie) Salvatore (Sal the Ironworker) Montagna – Called "The Bambino Boss" by the New York press, due to him being a baby-faced 36 when he took over the Bonanno Crime Family as "acting boss," Montagna was deported to Montreal in 2009 and killed there on November 24, 2011, following his attempt to wrestle control of the Canadian mafia from imprisoned Quebec don Vito Rizzuto, locked up for his role as an imported gunmen in the "Three captains hit" almost 30 years earlier. First, Sal the Ironworker joined forces with Rizzuto's two right-hand men, Raynald Desjardins and Joe Di Maulo and began attacking members of Rizzuto's inner-circle and immediate family. Montagna's alliance with Desjardins and Di Maulo was short-lived and in September 2011, Desjardins survived an assassination attempt, alleged to have been ordered by his former break-away ally. Two months later, Montagna was lured to a house in a Montreal suburb owned by a Desjardins lieutenant and attacked. Avoiding death at the house, Sal the Ironworker bolted on foot and led his assailants on a chase that ended with him being shot twice in the back of the head and left sprawled out in a shallow riverbed. Desjardins and seven others are facing charges and a 2015 trial on the Montagna murder. Di Maulo was killed on Rizzuto's orders before Rizzuto died of cancer in December 2013.
3 (tie) John (Johnny Pops) Papalia – Buffalo's heavily-tenured and highly-feared captain based out of Canada, operating in his hometown, the working-class city of Hamilton, Papalia feuded with the renegade Musitano brothers (Angelo & Pasquale) and was shot dead in front of his house on May 31, 1997. The Musitanos, whose dad Dominic was a capo in the Buffalo mafia and a friend of Papalia's and whose death in 1995 opened the door for the plot to murder Papalia, hired Irish enforcer Ken Murdoch to gun down 73-year old Johnny Pops and his top lieutenant Carmen Barillaro, a hit which he carried out two months later (July 23). Papalia was a revered strong arm and international drug smuggler, playing a crucial role in both the famous "French Connection" and "Pizza Connection" cases.
4 Paul Volpe – An Ontario-based Buffalo mob soldier, Volpe is alleged to have fallen out of favor with American East Coast mafia powers over joint casino ventures in Atlantic City and was killed on Nov 13, 1983, his body found in the trunk of his car at the Toronto airport. Considered one of the most infamous unsolved crimes in Canadian gangland history, Volpe was last seen alive leaving the trendy La Sem Italian eatery in downtown Toronto, accompanied by his then-driver and bodyguard Pete Scarcella, currently one of the area's leading Calabrian mobsters.
5 Gerlando (George From Canada) Sciascia – The Bonanno's capo in charge of Montreal, Sciascia was killed on March 18, 1999, shot in the back of the head by fellow Bonanno capo Pasquale (Patty From The Bronx) DeFillipo as they drove away from a Mahattan diner. Sciascia angered Bonanno boss Joseph (Big Joey) Massino for getting too close with the Rizzutto Crime Family and questioning Massino's decision to name Anthony (T.G.) Graziano, who he believed had a cocaine problem, his consigliere. A major international drug trafficker, in the 1980s George From Canada was aligned closely with the Gambino Family and John Gotti and participated in the "Three Captains Hit," shooting the Bonnanno's renegade faction leader, Alphonse (Sonny Red) Indelicato in the head.