Philly Mob's '92 "Little Felix" Bocchino Hit Started A War, Stemmed From Shakedown Of Skinny Joey's Uncle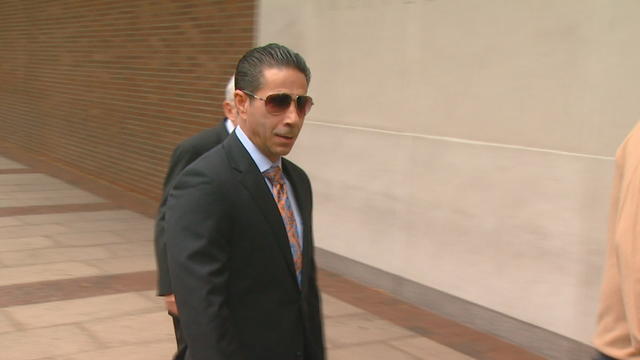 October 21, 2022 — The extortion of Philadelphia mafia don Joseph (Skinny Joey) Merlino's uncle triggered the first salvo in the war he fought to win control of the Bruno-Scarfo crime family 30 years ago, according to FBI informant files. Merlino and his crew of boyhood pals, all trigger-happy young gangsters with Omerta pedigrees, got backing by the imprisoned Ralph Natale — a hit man, drug dealer and labor-union racketeer with ties to the east coast mafia's old guard — and went to the mattress for power in the Philly mob in 1992 against Sicilian-born Godfather John Stanfa, who had the support of New York's Gambino and Genovese crime families.
Stanfa's No. 2 man, Felix (Little Felix) Bocchino, was killed on the morning of January 29, 1992 sitting in his car in front of his house. The FBI believes one of Merlino's closest friends carried out the Bocchino hit. Since Stanfa assumed the throne two years earlier, Little Felix had been shaking down South Philly bookmaker Michael (Sheiky) Baldino, Skinny Joey's uncle on his mother's side, according to FBI records. Bocchino's murder ignited a bloody two-year shooting war between Stanfa and Merlino factions, eventually won by Merlino when Stanfa was jailed in the spring of 1994.
The always slickly-dressed and consummately-cool-as-a-breeze Merlino grew up in the Philly mob. His dad was Salvatore (Chuckie) Merlino, the underboss to maniacal Bruno-Scarfo crime family don Nicodemo (Little Nicky) Scarfo, the younger Merlino's baptismal godfather and the leader of organized crime in Philadelphia and New Jersey in the 1980s. Upon Little Nicky and Chuckie Merlino being sent to prison in a RICO case in 1987, Skinny Joey and his like-minded entourage of up-and-comers wanted to take over the city themselves, however, never received the time of the day from the powers that be in the New York mob and instead found themselves restlessly under the thumb of "Homicide John" Stanfa, an out-of-touch Sicilian transplant with no rapport with his organization's youth movement and an arrogant demeanor in general towards his rank and file.
During a short prison sentence for an armored truck heist he was serving in the early 1990s, Merlino found himself sharing a cell with Natale, once a member of slain Philly mob boss Angelo Bruno's inner circle and doing a 15-year bid for arson, insurance fraud and narcotics trafficking. Natale blamed Stanfa and Little Felix Bocchino for being part of the plot to assassinate Bruno in 1980, a gruesome gangland execution that garnered headlines around the globe. He saw Merlino and his crew of fresh and eager muscle as a way to retain relevancy in an "MTV mob generation." Merlino, in turn, saw Natale's experience factor and connections in New York as way to secure legitimacy in his plan to grab the reins of the crime family at just 30 years old.
When Merlino got back on the street, the extortion of his uncle Sheiky Baldino became a point of great contention, per FBI intelligence files. Little Felix Bocchino just wouldn't relent, nor respect Merlino's growing influence, informants relayed to the feds.
From prison, Natale got Bocchino on the phone at a Christmas party held in a South Philly bar in December 1991 and requested that he leave Baldino alone, as a favor to him and Skinny Joey, according to Natale's FBI jacket. Little Felix told Natale, "I'm not doing anything wrong…….you guys have the green light to do whatever the hell you want (as long as it doesn't interfere with what him and Stanfa were doing)" and hung up. Natale would later recount a meeting in a prison visiting room between him, Merlino and Ciancaglini right after New Years 1992, where he told them, "We got to kill this guy Little Felix, the guy isn't doing what he's supposed to do. So we're going to do what we got to do. Show these guys (Stanfa's regime), where we're at."
Little Felix Bocchino, 74, was shot to death behind the wheel of his late-model, maroon-colored Buick sedan parked near his home on Mifflin Street in South Philly at 8:00 a.m. on January 29, 1992. Eyewitnesses say they saw a single white male in a sweatsuit and ski mask walk up to Bocchino's car and open fire with a .38 caliber revolver.
Bocchino came from the North Jersey wing of the Bruno-Scarfo crime family. In the 1960s and 1970s, he was in the Newark crew of consigliere Antonio (Tony Bananas) Caponigro, the man responsible for launching an unsuccessful palace coup and most likely the shooter in the shocking Angelo Bruno hit that took place in March 1980 outside Bruno's South Philly rowhouse.
John Stanfa was acting as Bruno's driver that night and opened the window on his car's passenger's side for the assassin to get a clean shot at Bruno's head. Bocchino is alleged to have delivered the murder weapon (a double-barreled shotgun) to the triggerman in the hit. Stanfa and Little Felix got protection from New York in the aftermath of the ill-fated gangland chess move. "Tony Bananas" Caponigro wasn't so lucky; him and his brother-in-law were heinously slaughtered by the Gen
ovese crime family.
Both Stanfa and Bocchino went to prison in the 1980s, with Little Felix getting out from a tax evasion bust in 1985 and Stanfa walking free from contempt charges in 1988. By the beginning of the new decade, Stanfa had assumed the boss' seat with the blessing of the Gambinos and the Genovese and Bocchino became his unofficial street boss. Per state police records, in the latter years of the Bruno era, Little Felix was tasked with looking after the Philly mob's gambling interests in the Garden State. At the start of the 1990s, Stanfa assigned Bocchino responsibility for getting all his new regime's street tax operations in gear throughout Philly and New Jersey.
Skinny Joey Merlino and his tightknit crew refused to get in line behind Stanfa and Bocchino. Merlino's camp included his best friends, Michael (Mikey Chang) Ciancaglini, Steven (Handsome Stevie) Mazzone and George (Georgie Boy) Borgesi. Ciancaglini, Skinny Joey's right-hand man, and Borgesi, his top advisor, had a father and uncle, respectively, in prison from the Scarfo-era RICO case. Mazzone's mentor in the mob, Lou (Louie Irish) DeLuca, was killed in 1990 for allegedly refusing to pay extortion money to Merlino and Natale from his gambling and loansharking rackets in South Philly.
Natale claims he was informed that Handsome Stevie Mazzone "made his bones" on the Little Felix Bocchino murder. He told the FBI that Merlino and Ciancaglini came to see him in prison before and after the hit and let him know Mazzone was the shooter and had briefly lost control of the gun at one point through the course of carrying out the job.
"Joey and Mikey said they wanted to make Stevie, they were getting ready to make him. I said, 'well, let him do what he's got to do." And Stevie went out and did what he had to do."
The "force of nature" Mikey Chang would lose his life in the Merlino-Stanfa war, shot to death on a South Philly street corner in August 1993 in the midst of a "walk and talk" with Skinny Joey, who was wounded in the attack. Mikey Chang's older brother "Joey Chang" took sides opposite his sibling in the raging conflict and replaced Bocchino as Stanfa's underboss. Joey Chang survived a March 1993 attempt on his life that left him handicapped and on the shelf.
After Mikey Chang died, Handsome Stevie Mazzone moved up to being Merlino's right-hand and second-in-command. Stanfa was swept off the streets in March 1994 and sent to prison for the rest of his life. Natale came out of prison that fall and unknowingly became essentially a front boss for Merlino for the next four years. The boastful Natale was a "rah rah" type of leader and the ultimately low-output act began wearing thin with his mostly New Millenium-generation troops later in his tenure as don.
Mazzone, 59, has never faced charges in the Bocchino homicide. The investigation into the May 1990 slaying of "Louie Irish" DeLuca never resulted in any charges either. Mikey Chang died the No. 1 suspect in the DeLuca hit and the failed spring '93 hit on his big brother.
Natale pleaded guilty to ordering the Little Felix and Louie Irish hits in January 2000 as part of his historic plea agreement when he became the first sitting boss of an American La Cosa Nostra crime family to cut a cooperation deal with the government. Merlino, Mazzone and Borgesi went down in a major federal racketeering case that same year, but avoided any murder convictions. They all did at least a decade as guests of the federal Bureau of Prisons, with Merlino doing a 12-piece. The Bocchino hit wasn't one of the six homicides charged in the 2000 RICO indictment.
If you believe the federal government, Skinny Joey Merlino, Handsome Stevie Mazzone and Georgie Boy Borgesi are back running the Philadelphia mafia today. Next month, Handsome Stevie Mazzone will be sentenced as the Bruno-Scarfo clan's underboss in yet anoth
er federal racketeering case. The dapper, well-liked and well-connected Mazzone pleaded guilty earlier this year and is expected to get 6-to-8 years in prison — he was caught on tape conducting a 2015 mafia induction ceremony in South Philly which his and Georgie Boy Borgesi's younger brothers were allegedly "made" into the crime family. Merlino relocated to Florida in the 2010s and is alleged to oversee the Bruno-Scarfo crime syndicate via a series of proxies.
Natale fell out with Merlino and his crew in the late 1990s when his use as a lightning rod to draw attention away from them was no longer needed and he proved more headaches than it was worth. Almost as soon as he was jailed for a parole violation in the summer of 1998, Natale was angling for a deal with Uncle Sam. He got his wish in 1999 once Merlino was on the ropes facing a drug case he would eventually be acquitted of. However, just months later, Skinny Joey, Handsome Stevie and Georgie Boy were all indicted on a wide slate of federal racketeering and homicide counts. In the end, Natale's testimony against his former lieutenants only led to guilty verdicts on the racketeering charges and he wound up doing more time behind bars than any of them, even Merlino, did. Natale died of natural causes back in January at age 86.